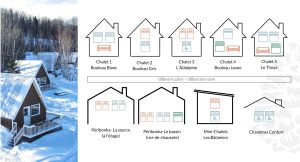 New owners of the premises, we offer four-season rustic cabins for rentals that can accommodate 6 to 8 people.
Our four-season cabins, which can accommodate 4 to 8 people, have all been redecorated and are now more comfortable thanks to the new mattresses and warm quilts. The units have a full bathroom with a shower, and a fully equipped kitchen. In addition, we provide all bedding and towels.
Note that access to the cellular network and the internet is very limited. However, we can provide access to the Wi-Fi network inside the main relay and on the outdoor terrace.
You are travelling with your pet; he will be welcome in our accommodation units.
Please take note that we will be closed from April 14th to April 30th, 2023.